Edit GoPro Hero 4 4K MP4 video in FCP X
You may find that FCP X is very picky in importing HD videos, for example, one can import AVCHD files using camera import, but can't import 4K clips. This article is trying to explain why FCP X does not read your GoPro Herp 4 contents properly and guide you how to import individual 4K H.264 MP4 video to Final Cut Pro X.
Nowadays, GoPro camera which was called extreme sports dedicated camera has introduced new products GoPro Hero 4 Session , and it will be sold in the global market soon. The Gopro Hero 4 camera Not only to maintain the tradition of good performance, such as Powerful recording function, Good waterproof design, etc. To be excited, the new camera is very mini, weight is light only to 74 g , and it was more easier for flexible shooting . The biggest change is the camera was equipped with a touch screen for the first time, at the same time the camera is equipped with microusb, which was easy to spread videos to share on social networks. To our surprised this camera can record 4K recordings for us. Some people like to edit the Hero 4 captured video first for uploading, sharing etc. However, because 4K footage were not supported by some editing software well, such as Final Cut Pro X, Avid, Sony Vegas Pro, FCE and so on, so it is difficult to edit GoPro Hero 4 4K MP4 in FCP X. For importing GoPro Hero 4 4K video into FCP X, you need to transcode H.264 MP4 to FCP X best editing codec-Apple ProRes (422/4444).
Acrok HD Video Converter for Mac is your best choice which can bring you a lot of convenience, this converter can make your 4K video into suitable output format so that you can edit GoPro Hero 4 4K video in FCP X . The specific steps are as followed.
Free download GoPro 4K MP4 Video Converter



How to convert GoPro Hero 4 4K MP4 to ProRes MOV for FCP X?
Step 1: Add media videos
Open the Acrok HD Video Converter for Mac, click the add files button, then select the video that you want to convert, or you can drag the video into the GoPro Hero 4 4K video to FCP X converter directly.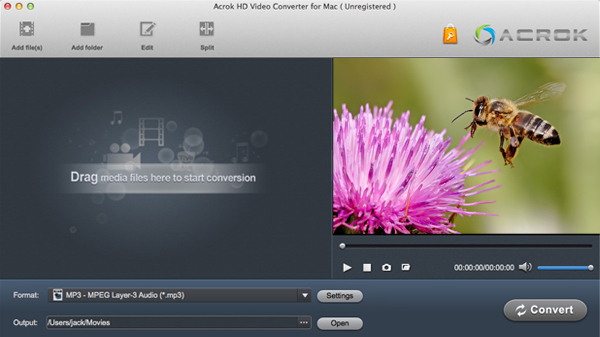 Step 2. Select the output format
Click the format bar, then move to Final Cut Pro category to choose the output format you needs. Here, "Apple ProRes 422 (*.mov)" is your best choice. It is worth nothing that if some people want to edit your video slightly, the GoPro Hero 4 4K video to FCP X converter also can give you some help, you can click the edit button for some editing.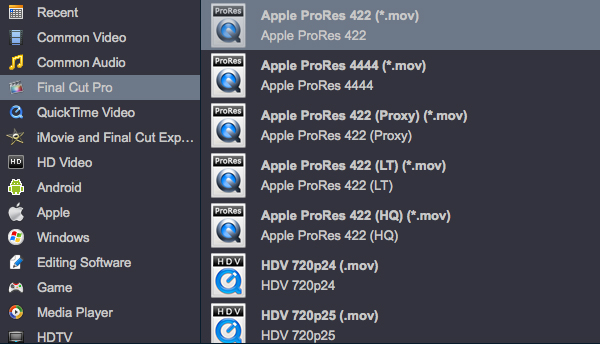 Step 3: Convert video
When the previous steps are completed, you can click the convert button to start GoPro Hero 4 4K MP4 to Final Cut Pro X (FCP X) Apple ProRes MOV conversion. The converting will soon be completed.
Step 4: Import the converted video into FCP X
Finally, click the open button ,you can find out the converted video by the default save path, next then you can import and edit your video in FCP X at any time. By description, you must have a certain understanding on this 4K video conversion software, this GoPro Hero 4 4K video to FCP X converter can easily let you get your wanted video formats, so Acrok HD Video Converter is your good choice to add color to your life. Let us enjoy it together.