Edit MP4 video in Premiere Pro CC/CS6/CS5
From video editing forum, many MP4 video users feedback that they have problem with importing MP4 files to Premiere Pro for editing. Want to edit some MP4 videos with Adobe Premiere Pro for uploading to web or sharing with your friends? Why you often fail to import MP4 recordings into Premiere Pro CC/CS6/CS5 such as can't loading the video, or successfully with no audio, even the audio and the video are not synchronized? The specific circumstance is as follows:
Issue on importing and editing MP4 in Premiere Pro CC/CS6/CS5
Q1: I'm trying to import recorded MP4 videos which in XAVC S codec into Premiere Pro CC for further editing. Unfortunately, Premiere Pro CC won't allow me to import it and an error message comes up saying, "Warning: An error occurred while loading the project file". The file is most likely corrupted or of an unknown format. What's wrong with it? Searching from the Google, Adobe Premiere Pro seems that can support MP4 format files, why I can't finish the task between MP4 to Premiere Pro? Is there anything wrong with my footage? I can't believe it is true, who can help me? Any advice is appreciated.
Q2: "I read that Premiere Pro CS6 now supports import all of MP4 files. But in Premiere Pro CS6, the 4K MP4 files are still pizza wheel in the import window. Any good ideas for me?
Q3: Hi I'm John Mackay, I was just wondering. I recorded video in a strange format .mp4, and it wont import into Premiere Pro CC on Windows 10. Someone asked me if I had all the updates, etc, I do, and still no luck with it… Thanks in advance!
Actually, it's not so hard to do above trick. The reason is that MP4 is a format container with different codec. And from the Adobe Premiere Pro website, we know Premiere Pro only supports MP4 format which with QuickTime Movie or XDCAM EX, it doesn't support for other encoded MP4 format, such as XAVC S; Besides, at currently, only the Premiere Pro CC support 4K version  support 4K resolution video, other version don't support 4K video editing at all. So if your MP4 files are not in QuickTime Movie, XDCAM EX, you need to convert MP4 to Premiere Pro CC, CS6, CS5 the best editable format-H.264 or MPEG-2 by a MP4 to Premiere Pro converter. With this simple to use Acrok Video Converter Ultimate, you can effortless encode XAVC S to H.264 and MPEG-2 codec for Premiere Pro CC, CS6, CS5.
Free download the MP4 to Premiere Pro Converter.
Tutorial: How to transcoding XAVC S to H.264/MPEG-2?
Step 1: Lunch the MP4 to Premiere Pro Converter and run it. Drag the MP4 footage to the software. Or you can also click "Add files" button on the top of the main interface to import video to the program.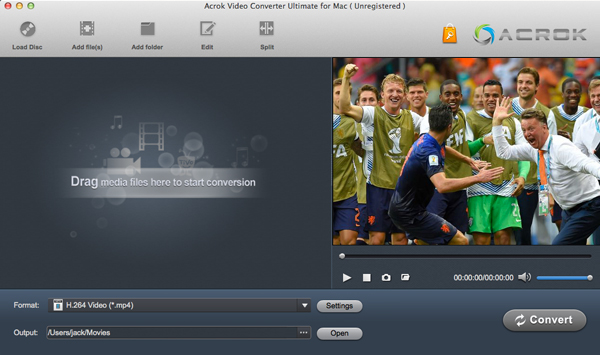 Step 2: Set output video format. Click the "Format" bar and select "Editing Software" > "Adobe Premiere/Sony Vegas AVC MOV (*.mov)" or "Adobe Premiere/Sony Vegas MPEG-2 (*.mpg)".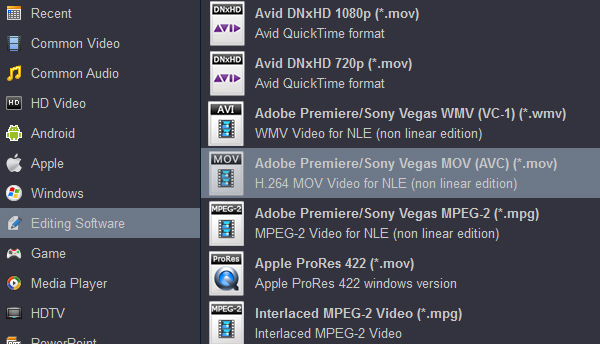 Step 3: After all necessary settings, tap the "Convert" button to start the MP4 to  Premiere Pro editable format conversion with the best MP4 Converter.
Once the conversion process shows in 100%, click "Open" to get the converted videos. Create a project and start editing converted videos in Premiere Pro without hassle.