How to watch Blu-ray movies on Google Pixel 7/6/5/4a/3?
Can I watch Blu-ray movies on my new Google Pixel 7 Pro? I know I need a Blu-ray ripping software to rip and compress Blu-ray moveis, but I don't know which program should I choose. If you have anything on your mind, I want you to come out with it. Darling, so share with me.
The Google Pixel 7 Pro adds some of the more advanced features of its predecessor in order to make it better, and the result is a streamlined phone with great camera software and a clean Android interface. The 6.7-inch  (3120 x 1440) display is a sharp and bright screen, with minimal bezels and a punch-hole to house the front-facing camera. The display equipped with the 120Hz refresh rate that Google doesn't rolled out with the previous phones, and it's more smooth here.
Though Google Pixel 7 Pro as other Google Android phone doesn't have a Blu-ray drive like a computer, you can still copy Blu-ray files to Google Pixel 7 Pro, Pixel 7, Pixel 6 or Pixel 4a and Pixel 3 easily. What you need is to convert Blu-ray to Android supported video formats like MP4. And Acrok Video Converter Ultimate is just an ideal tool to get that done in clicks. With it, you can rip and convert Blu-ray to Google Pixel 7 Pro, Pixel 6, Pixel 4a or Pixel 3 in HD quality without hassle. If you're using a Mac, get the best Blu-ray Ripping software to format Blu-ray for Google smartphone on Mac. Download the Blu-ray converter program and follow the tips below to watch Blu-ray movies on your new smartphone smoothly.
Free download Blu-ray to Google Pixel 7/6/5/4a/3 Converter
How to Rip Blu-ray to MP4 for Google Pixel phone Playback?
Step 1: Load Blu-ray disc.
Insert Blu-ray disc into an internal or external Blu-ray drive, start the program on your computer, click "Load Disc" to load Blu-ray into the top Blu-ay ripping program, apart from Blu-ray disc, you can also use the program to load Blu-ray folder or ISO image file.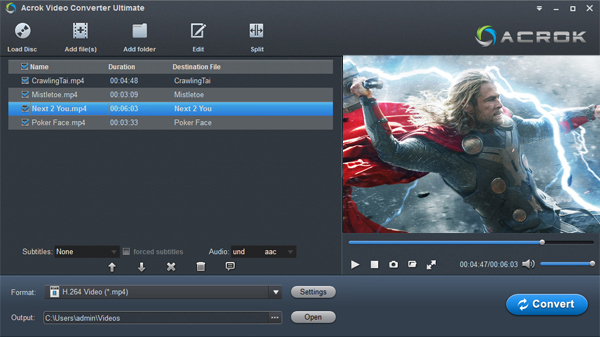 Step 2: Output Google Pixel 7/6/5/4a/3 supported file formats.
Click "Format", from its drop-down option, choose Google Pixel 7/6/5/4a/3 playable video format such as "H.264 Video(*.mp4)" under "Common Video" main category.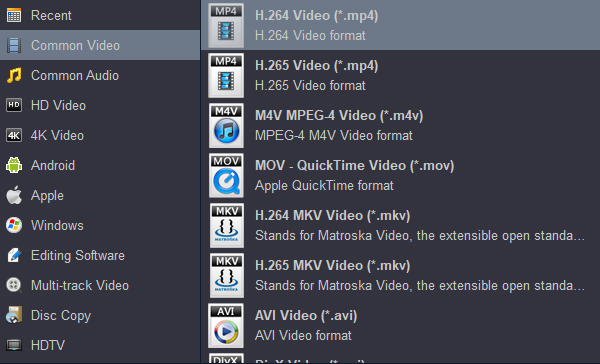 Step 3: Begin the conversion process.
Go back to the main interface, click right-bottom "Convert" button to begin the conversion from Blu-ray to Google Pixel 7/6/5/4a/3 supported file formats conversion process.
When the conversion is completed, click "Open" button to pop out the folder with converted files, then you can easily transfer and play converted files on Google Pixel 7/6/5/4a/3.
Tip: If you have a sizable collection of Blu-ray discs gathering dust, you might want to consider digitizing those bad boys so you can watch them on your phone, computer, or tablet anywhere, anytime. While you might not yet know how to rip a Blu-ray, the process isn't complicated if you're comfortable with some basic software, but we'll guide you through the process, just to make it as simple as possible. Only with the help of a Blu-ray backup software program can we backup, convert, rip or copy our Blu-rays.