There are some mkv video file format on my hand recently, I would like to make these files some necessary editing , but which bothers me is that i could not open these .mkv files in Sony Vegas Pro 16 directly. Is there a simple and fast way for me to make Sony Vegas Pro could read these MKV videos?
MKV is a file extension for Matroska, which is a new multimedia package format, also known as a multimedia container, It differs from DivX, XviD and other video encoding formats, but also from MP3, Ogg and other audio coding formats. Previous common AVl, VOB, MPEG, RM format actually are both belong to this type. Matroska media defines three types of files,include MKV( Matroska Video File), Matroska Audio File and Matroska Subtitles,among them, the most common file format is MKV. MKV is often used for storing high definition videos (movies, 3d movies, etc.). MKV now almost become a universal media container, which can be said a big subversion to traditional media package format. The biggest feature of MKV is the ability to accommodate many different types of encoded video, audio and subtitle streams, even also include into the very closed streaming RealMedia and QuickTime. However, it is because of the ability, some issues also appeared. Many editing software and media player does not support this MKV format, such as Sony Vegas Pro (16, 15, 14).
Sony Vegas Pro 13, 12 and 11 are the professional video and audio editing software which with a powerful post-processing capability. Sony Vegas Pro is one of series in Vegas family. It is an audio and video editing system prepared for professional-level film and television producers to produce a more perfect video editing effects. Different from other editors, Sony Vegas Pro supports scripting technology which offers task automation, simplify the workflow to improve work efficiency.
Sony Vegas Pro 8.0, is the first product of its series, which released on September 10, 2007, Soon after Sony Creative Software released Sony Vegas Pro 9.0 with greater support for 4K resolution On May 11, 2009. Then Vegas Pro 10, Vegas Pro 11, Vegas Pro 12 joined the 3d video editing features, as well as the GPU AVC encoding operation and an image stabilization function and track management. Sony Vegas Pro 13 is the latest version also adds into many new features. It brings new collaboration tools and streamlined workflows to professional content producers faced with a wide variety of multimedia production tasks. The Sony Vegas Pro Connect iPad app provides a comprehensive review system within a gesture-driven control surface, Vegas Pro Connect replaces tedious written spreadsheets and notes with efficient online and offline review workflows. Sony Vegas Pro supports MP4, MPEG-1, MPEG-2, H.264, ASF, AVCHD, AVI, DV, MOV, M2TS, Sony MXF (XDCAM and HDCAM SR), WMV, XAVC Intra MXF, and XAVC S. Obviously, MKV is not supported by Sony Vegas Pro. How to Make Sony Vegas Pro Read MKV files? In fact, this is a simple project, just encode MKV files to a format that Sony Vegas supports. Here Acrok HD Video Converter will be the best Sony Vegas Pro MKV solution.
Acrok HD Video Converter is specially developed for Sony Vegas Pro users to tanscode MKV footage to native codecs – H.264, MPEG-2, wmv-3/wmv-2 and more – ensuring maximum editing quality and efficiency when working with Sony Vegas Pro 13, Sony Vegas Pro 12 and Sony Vegas Pro 11. What's more, with the converter tool, you can convert convert MKV to QuickTime, MP4, MOV, M4V, FLV, etc. with desired codec, duration, aspect ratio, and file size. It also supports output files for a wide variety of media devices, including Surface Pro 3, iPhone 6 Plus, iPad Air, Galaxy Tab S, Xperia Z4, Galaxy S6 Edge, Moto X and more.
Free download MKV to Sony Vegas Pro Converter here
Please floow below steps to convert MKV files to Sony Vegas Pro editable format.
How to import and edit MKV in Sony Vegas Pro 16/15/14?
Step 1: Run Acrok HD Converter as the top MKV to Sony Vegas Pro Converter. Add the MKV video into it.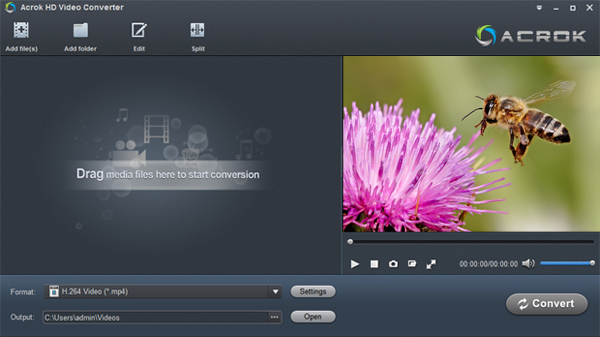 Step 2: Click "Format" bar to set output format. Here, you can selece "Adobe Premiere/Sony Vegas MOV (*.mov)" , "Adobe Premiere/Sony Vegas MPEG-2 (*.mpg)" or "Adobe Premiere/Sony Vegas WMV (VC_1)(*.mov)" under "Editing Software" category.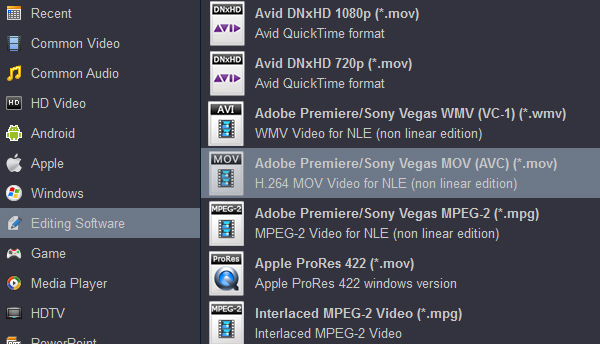 Step 3: Click "Convert" button to start MKV to Sony Vegas Pro editable format conversion. When the coversion is complete, you need to click "Open" icon to locate the converted files.