Import edit GoPro Hero 9/10 H.265 in DaVinci Resolve 17

I am having trouble importing my GoPro Hero 9 5K MP4 files in DaVinci Resolve 17. I shot it on my camera. I am converting but it converts all pixilated. I haven't had trouble transcoding before in 1080P but this is the first time I've tried 5K and it doesn't look good at all. I am worried because this footage is from a fairly large budget music clip and editing in DaVinci Resolve needs to be started immediately. "
"I can play GoPro Hero 10 5.3K footage on my computer with Windows Media Player, but I can't play the H.265/HEVC videos in DaVinci Resolve, and I can't edit it. What should I do?"
The Hero 9 is 2020's flagship action camera. It comes from a tradition of high level, professional grade performance and continues that trend. As well as upping the resolution to 5K for video, it increases photos to 20MP and adds the ability to capture 14.7MP stills from video, too. Add improved image stabilization , improved time-lapses and a longer-lasting battery and the Hero9 Black is the best GoPro we have seen to date, and probably the best action camera to boot. The only major drawback is the limited 5K video options. But if you are planning to use your next acrion camera for professional film making, GoPro Hero 9 is an excellent choice.
GoPro's newest camera, the Hero 10, is all about doubling the speed. From doubling of frame rates – now up to 120 frames per second in 4K, and 240 in 2.7K – to significantly improve the speed of the user interface, and even speeding up the simplest action of taking a photo. The taller frame lets you capture more vertically but also with such a high resolution, you can pull frames from the video for 19.6-megapixel photos from 5K 4:3 video.
While there might be difficulty importing GoPro Hero 9 5K or GoPro Hero 10 5.3K recordings to video editing software such as DaVinci Resolve 17 because it does not support 5K/5.3K footage as source media well. Without getting into the technological intricacies of exactly how each codec, Long GOP (groups of pictures) and Intraframe (individual video frame) encoding works, with H.265 being a compressed codec, your computer has to do a lot more heavy lifting to decompress that information to edit.
How to omport and edit GoPro Hero 9/10 H.265 footage in DaVinci Resolve smoothly? You'd better to convert GoPro Hero 9/10 H.265/HEVC video to DaVinci Resolve compatible H.264 .mov, H.264 .mp4, DNxHD .mov or ProRes .mov format first. Apple ProRes codec is your best choice. Which softwarecan do this job? I will share the GoPro Hero video Converter with you.
To convert GoPro Hero 9 and GoPro Hero 10 videos for DaVinci Resolve, it's undoubtedly that a video conversion program is needed. Here Acrok Video Converter Ultimate for Mac can be a great assistant for users to finish the task. It's a great application to transcode 5K/5.3K H.265 to DaVinci Resolve compatible video formats like MOV, MP4 with no quality loss. What's more, it also supports encoding other video formats, like MTS, MXF, MOV, AVI, MKV to DNxHD for Avid Media Composer, Apple Intermediate Codec for iMovie, MPEG-2 for Premiere Pro, AVI to Pinnacle Studio, ProRes for Final Cut Pro X, PowerDirector, Pinnacle Studio 24, VideoStudio Ultimate and more. Thus, you can simply transfer the videos to different NLEs without any video/audio problem. If you are Windows user, please try Acrok Video Converter Ultimate. Now just download the app and follow the step-by-step guide to import and edit GoPro Hero 9/10 files in DaVinci Resolve 17.
Free download GoPro Hero 9/10 Video Converter
How to convert GoPro Hero 9/10 H.265 video for DaVinci Resolve?
Step 1. Add H.265 videos.
Download and install H.265 to DaVinci Resolve Converter on Mac, drag and drop your GoPro Hero 9 or GoPro Hero 10 footage from local computer or camear to Acrok application.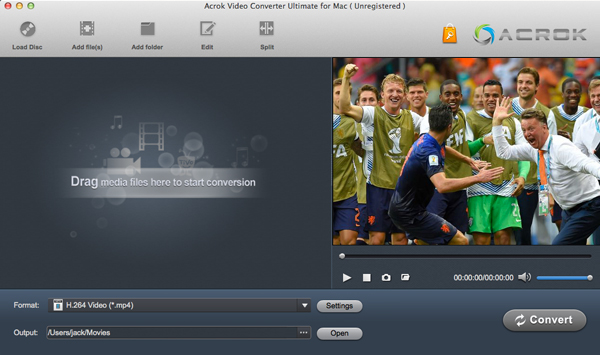 Step 2. Choose output format for DaVinci Resolve.
Acrok H.265 Video Converter offers plenty of video editing program acceptable formats, and you are recommended to choose "Final Cut Pro" > "Apple ProRes 422 (*.MOV)" as the output format.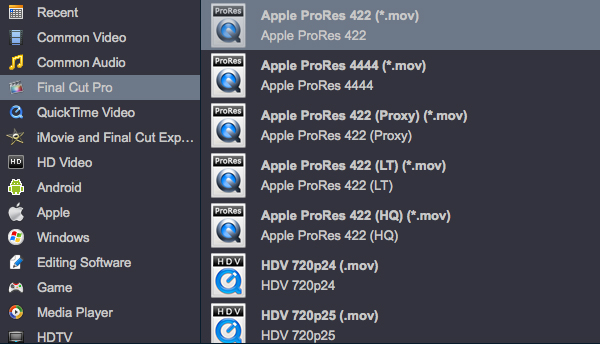 For Windows PC: Click "Format" then move your mouse to "Editing Software" category, then select Apple ProRes 422 (*.mov) as output format.
Tips:
1. You can adjust video parameters to meet your request, like resolution, video codec, bit rate, frame rate, etc.
2. Tick the "Settings" button then checkbox "Merge all files into one" on main surface, and the GoPro Hero Video Converter will join and combine the video clips into a single file as output. Meanwhile, you could split one large 5K or 5.3K MP4 video into several smaller files.
3. Furthermore, you are provided some useful edit functions cropping, trimming, adding watermark, attaching subtitles for pre-editing your video files so that you can simplify your iMovie editing.
Step 3. Start GoPro Hero 9/10 video conversion.
Check and make sure all above steps are settled down, click the "Convert" button and conversion of GoPro Hero 9/10 MP4 to DaVinci Resolve best editing video begins. Once finished, you could locate the converted MOV files and import the converted video to DaVinci Resolve 17, 16, 15 for video editing.