MXF to Premiere Elements 2021 – Edit MXF video in Premiere Elements 2021

Can I edit my MXF files in Premiere Elements 2021? I'm a sociology teacher, last month I have the opportunity to participate in the school organized summer social practice. I recorded some interesting videos for my students by using Canon XF100. I want to edit the footage in Premiere Elements then share with my students on FaceBook. However, I encounter incompatibility issues when import MXF to Premiere Elements, and it keeps saying that it doesn't have the right codec. How can I solve the problem?
MXF is a "container" or "wrapper" format which supports a number of different streams of coded "essence", encoded in any of a variety of video and audio compression formats, together with a metadata wrapper which describes the material contained within the MXF file. At present, many taken out of video formats from cameras are both MXF files, such as Canon XF100, XF105, XF305, Canon EOS C300, Sony PMW-200, Panasonic P2 etc., Most people want to play MXF video files in some editing software like Premiere Elements, Sony Vegas Movie Studio, PowerDirector, Corel VideoStudio, iMovie… However because MXF is a shell format instead of a compressed format, and therefore it can not ensure that each MXF file can be identified in any kind of decoder. In order to successfully edit the .mxf file, we usually transcode it to the format our editing software support.
Compared with other professional editing software, Adobe Premiere Elements is more simple and easy to use. It is a very suitable software for family. Users can quickly learn how to use it any easy to achieve the desired effect. In addition to capturing footage, you can also import images, video and audio files. It has all the tools and more that you'll need to splice, trim and arrange your videos into a finished product that you can be proud of. Premiere Elements support many formats, such as MP4, AVI, DV, MOV, M2TS, MPEG-2, H.264, SWF, VOB, MOD, AC3, MPE, MPG, MPD…
Tip: What video and audio can import into Adobe Premiere Elements?
Adobe Premiere Elements Supported Formats
Video file formats – import
.3gp, .3g2, .swf, .avi, .m2ts, .mts, .dv, .mp4, .m4v, .mov, .m1v, .mpeg, .mpe, .m2v, .mp2, .mpg, .tod, .vob, .wmv
Audio file formats – import
.amr, .aif, .aiff, .aac, .ac3, .mp3, .m4a, .mov, .wav, .wma
Regrettably, although the latest Premiere Elements added many new features, it doesn't support MXF still far. So if you want to use MXF footage in Premiere Elements 2021 smoothly, you need to encode MXF to Premiere Elements editable file type. Here, Arock MXF Converter is a best choice for your MXF files conversion. This MXF to Premiere Elements converter is a high-quality, high-performance video converter, it is much more than a converter, we also can edit , enhance, and watch videos with it. Below is a detailed step on how to convert MXF to MOV with H.264 codec for editing in Premiere Elements. Just follow it, you can edit all your MXF footage in Premiere Elements.
Free download the MXF to Premiere Elements converter
How to convert MXF to Premiere Elements supported formats?
Step1: load the MXF recordings to this top MXF Converter
Install and launch the MXF file conversion program, then two options provided to get started: Drag MXF footage to the converter directly, or you can click "Add files" button to import the MXF files.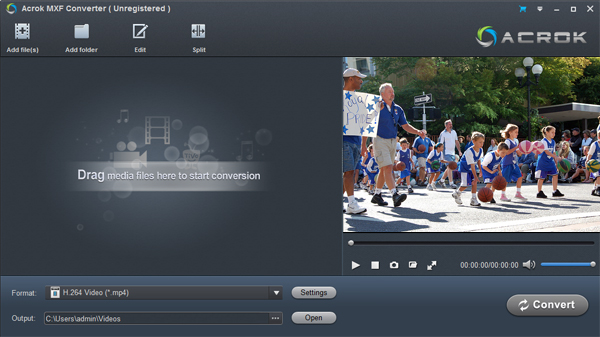 Step2: Choose best output format for Premiere Elements
Click "Format" options to select the best format. It is recommended to choose "Editing Software" then select "Adobe Premiere/Sony Vegas MOV (AVC)(*.mov) or "Adobe Premiere/Sony Vegas MPEG-2 (*.mpg)" for best output format.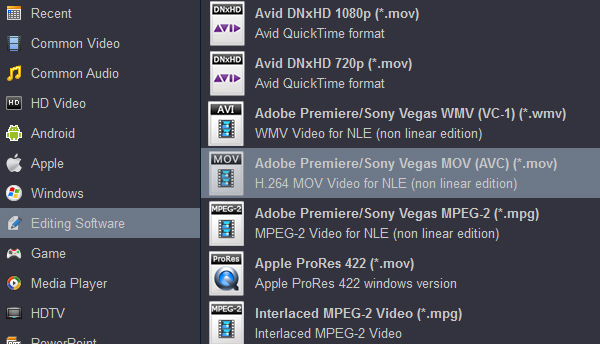 Tips: You can click "Editing" button to do some video editing. For example, If you want your MXF videos with some subtitle on it, you can click "Subtitle" button to add your wanted subtitle in. What's more, if you want a fragment of the video exactly you can click "Trim" options to get the best quality you want.
Step3: Start MXF to Premiere Elements conversion
Now, you can click "Convert" button for converting MXF footage to Premiere Elements 2021 best editable formats.
Once the conversion is completed, you can click "Open" to find out the converted files then import the output files to Premiere Elements 2021 for further editing smoothly.